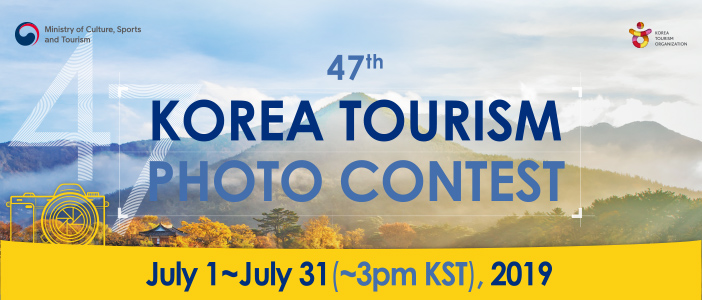 Korea, where every step you take brings warm and fun memories.
Share with us your most vivid and exciting moments!
I. Information
■ Eligibility: All interested
■ How to Submit: Online
■ Submission Period: July 1 (Monday) – July 31 (Wednesday, 15:00 KST), 2019
■ Subject: Trip to Regional Tourist Attractions
- Photos taken at tourist sites outside of Seoul and major tourist destinations promoted by the Korea Tourism Organization (KTO) - Special recognition given to photos taken at tourist destinations promoted by KTO (K-Tour Best 10 (by themes) & Top 100 Must-Visit Tourist Spots of Korea) * Attachment:


■ Qualifications: Up to 5 pictures taken after January 2017, that have not been published or released elsewhere.
※ Entries will not be returned, and KTO reserves the right to use awarded entries.
■ Size: JPG format at least 3,500 pixels on the longer side (no restrictions for smartphone contest)
■ Winner Announcement: September 9, 2019 (tentative); winners will be posted on KTO's website (http://kto.visitkorea.or.kr) and will be contacted individually.
II. Awards
Class
Award Title
No. of Awards
Cash Prize
General
Photography
Grand
Presidential Award
1
KRW 5,000,000
Gold
Minister of Culture, Sports & Tourism Award
1
KRW 3,000,000
Silver
Korea Tourism Organization President's Award
2
KRW 2,000,000
Bronze
Korea Tourism Organization President's Award
3
KRW 1,000,000
Special
(International Applicant)
Korea Tourism Organization President's Award
1
KRW 600,000
Honorable Mention
Korea Tourism Organization President's Award
72
KRW 300,000
SmartPhone
Photography
SmartPhone
(additional winner for Overseas KTO Smartphone Contests*)
Korea Tourism Organization President's Award
20
(10)
KRW 300,000
(prize/souvenir)
Total
100
(110)
43,200,000 won
※In the event that entries fail to meet expected standard of excellence, prizes may not be awarded.
*Overseas KTO Smartphone Contests refer to additional contests conducted by overseas KTO offices through their homepage (including social media channels). Rules and regulations for these contests will be set by overseas offices.
III. Others
■ Before submitting your entry, please refer to the attached "Rules and Regulations" section (link) for details.
■ Further inquiries: Publications & Translation Team, Korea Tourism Organization (tel no.: +82-33-738-3343)
◆ Organized by the Ministry of Culture, Sports & Tourism, and the Korea Tourism Organization
< Rules & Regulations >
① Standard Regulations
■ Photos awarded in other contests (including revised and altered versions), imitations, composites, or edited photos, or entries submitted by person other than photographer will be rendered ineligible, and the applicant will be barred from any KTO contest for 3 years. Awarded entries will be canceled.
■ Special Prize (International Applicant) is intended for non-Korean applicants only, and ID will be requested if selected as the prize winner.
② Information on Copyright
■ Contest entrants waive property rights (including rights of derivative works) upon being awarded. The KTO assumes full ownership of awarded entries, and may use images in any shape or form for promotion, publication, distribution to a third party, and other purposes. Entries will be made available for free download on KTO's Photo Gallery under KOGL (Korea Open Government License) Type 1*.
* KOGL Type 1: "User can freely use public work regardless of its commercial use without fee, and can change it to create secondary work."
■ All entries must have acquired any and all necessary copyright laws and/or rights pertaining usage of photos. Entrant shall bear sole and exclusive responsibility for consequences arising from infringement of such rights and laws.
■ If person(s) in picture is identifiable, entrant will be requested (through individual contact: tentative) to download and submit "Photo Portrait Release Agreement" for all identifiable individuals in picture. (Photo Portrait Release Agreement is available for download in the KTO website, and entries without release agreements will be omitted from judging.)
③ Smartphone Photography
■ Foreign nationals residing in Korea may take part in both general photography divisions as well as the smartphone photography contest conducted by Korea Tourism Organization (Korea headquarters). However, Overseas KTO Smartphone Contests are conducted by our overseas offices for tourists who have visited Korea. Please refer to pertaining KTO overseas office website/social media for rules and regulations.
■ To participate in the smartphone photo contest, you must also sign up to the Korean contest page, even if you've already signed-up to the English page. Once you've become a member, you can submit your entry through the Korean photo contest page.

■ Further inquiries: Publications & Translation Team, Korea Tourism Organization (Tel No.: +82-33-738-3343)